Bryan Reeves is a Transformational Life and Relationship Coach.  A Co-founder and Director for The Center for Mindful Education, where he taught mindfulness to people with autism. He co-founded "Operation Mindful Warrior" to help bring mindfulness to military veterans who are currently committing suicide at a shocking rate.  He also is the author of the highly successful book, "The Sex, Flirting, Dating, Hunting and Hoping Diet: Give Up The Insanity and Get Your Life Back."
I was introduced to Bryan through a friend who shared one of his articles.  After going to his website and seeing that he had a section of writings titled Gratitude I had to reach out to him.  He was generous enough to take part in this feature piece on him and answer 8 Grati-Questions.
1. What does being grateful mean to you?
It simply means embracing everything I'm experiencing. EVERYTHING! For example, running out of money at age 40 turned out to be one of the best things that ever happened to me, because that was the moment I stopped being afraid of running out of money. That was the moment I discovered I could run out of money, and my heart and soul were still intact and I was still worthy of love, and so that's the moment everything changed for me. I literally made 10 times this year what I made last year, with the same effort, and all because I ran out of money.

2. Right now in this moment what are 3 things you are grateful for?
My lovely new lady.
My ever-deepening awareness of who I truly am.
All the magic I get to experience everyday with so many exquisite people.
3. How do you use gratitude in your relationship coaching?
At the core of my coaching practice, whether with individuals or couples, I essentially help people shift from living in an everyday mindset of fear – which can be very subtle and still sabotage what you most want – to living in an embodied mindset of love. A mindset of love gives you access to being grateful for everything … because you see how everything that happens is always serving you in some way, even if that way is just deeper into living grounded in the truth of who you really are, and with an open heart.
4. Could you tell us about a struggle in the past year that you are now grateful for?
Yeah, even though I ran out of money just over a year ago and everything started to shift, I still had to do some deep inner work around my fear of losing money. At the core of that struggle was my fear this belief: "if I don't have money, I can't participate in life!"
So I've done so deep inner work around this money fear with my own coach, who was quite expensive at over $40,000 – a whole lot more than I even made in all of 2014!! That struggle and the work I've done around it, as well as my deep commitment to not choose fear in my thinking about money but rather choose a mindset of love, possibility, gratitude around whatever money I have … that has all created an abundance I couldn't even imagine possible last year.
5. What habit have you developed over the last few months to a year that has changed your life for the better?"

Learning to see when I'm thinking with fear-based thoughts, learning to surrender that fear to love, then actually taking action from that place of love rather than fear. It has made all the difference.
6. You have helped countless people transform their lives and relationships. Who is a role model of yours, and why?
I have countless. So many people have helped me along my path. But I would say my own coach is currently my biggest role model. She is the most committed-to-love human being I have ever known. And people think love is weak??? Oh Haaaayell no! My coach is FEROCIOUS in her commitment to love. In fact, she gives my ego, my fear, no room to maneuver, which has made me passionately hate her on occasion! Love ain't weak at all. Fear is weak. Fear might have a lot of humanity at its back, but Love has the entire universe at its back!
7. Tell me about a project or accomplishment that you consider to be the most significant in your life so far?
Man, I have done so many things I'm proud of, from taking a music band on tour across North America for a year to simply being patient and not giving up as an entrepreneur when I had no fucking idea how I was going to pay my rent or even sure what work I was really supposed to be doing.
I'm just so thrilled now to be writing blogs read by millions of people around the world, coaching individuals and couples, and simply supporting men and women all over the world in stepping into their own wild brilliance.
8. In closing, what is one suggestion you have to our audience that can help incorporate gratitude into their daily lives?
Here's a mantra I have used to help keep my eyes and heart open to the magic always swirling around me in life:
"The Universe is constantly conspiring to bless me. I only need stay out of the way and allow it to happen."Try it out. Stay grateful 🙂
Bryan
---
Thank you so much for taking the time out to share your gratitude with GratitudeSpace Bryan!  Your passion for helping others is ever present through your thoughts and words.  I really love your mantra.  It's so true that at the end of the day we, ourselves are the ones in the way of our hopes and dreams.  Through gratitude, we can find ourselves in a space of peace where our love and our true self can shine bright.  In closing, I've attached a few ways you can connect with Bryan and his biography. Enjoy, Gratitude
---
Connect with Bryan Reeves through:
bryanreeves.com | Facebook | Twitter | Youtube | Tumblr | Linkedin  
---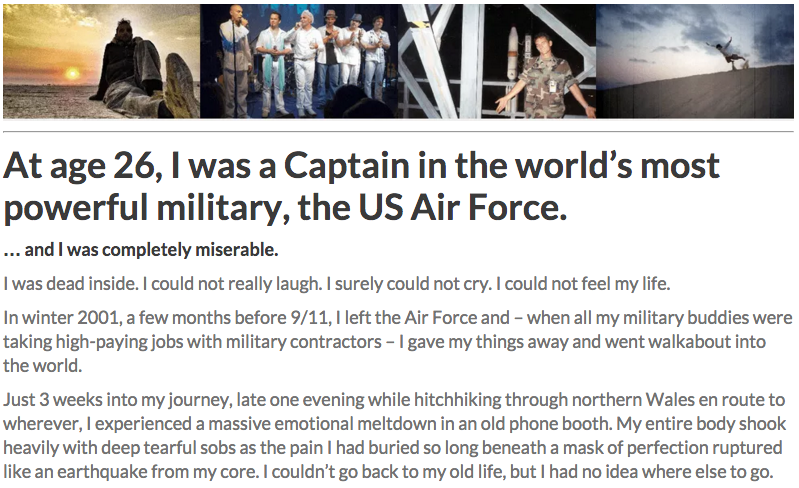 To Continue Reading click HERE.
---
 Nominate another person or organization that deserves a Spotlight!  Email Nomination to Chris@GratitudeSpace.com.  GratitudeSpace.com is the largest online Gratitude Community sharing over 250,000 Gratitude/ Thanks, posts monthly. Click HERE to see what people all over the world are grateful for.  Connect with us at: