I had a blast with this dude @teammarik who blessed our set w/ his presence. 
For those who don't know Marik's story. He's battling cancer and recently placed on hospice. He made a bucket list… and meeting me was on that list. 
So here we are… I'm pushing him around set, having fun, introducing him to our crew and explaining to him how our "Hollywood magic" works behind the scenes. 
He had a blast. I was grateful. 
I don't know why things happen to kids the way they do. Over the years of spending time with kids and parents who are struggling hard thru disease (often terminal), I've realized we just gotta hold onto faith in knowing that there's a much bigger and positive reason why this happens. Even if I don't understand it at that moment. 
For me, this'll always be the best part of fame. And the reminder that the most powerful thing we can all do is lead with strong empathy and love. 
It's also the reminder to never let yourself get caught up in petty sh*t and keep your thoughts and energy optimistic and big picture. 
So grateful I had a chance to hang with my man Marik aka.. the King of Xbox. 
#MarikAndRock #OnSet #BucketListFun#GratefuMan
Repost from Dwayne Johnsons Instagram Account.
---
Marik's Story:
Osteosarcoma Fighter, Amputee and Hearing Impaired Champion. Marik is a global inspiration. Our campaign is dedicated to his warrior spirit and LIFE! Marik's cancer has relapsed and we are about to start our fight to the finish against it. Hello, my name is Kelli. I am the proud parent of Marik. 
Imagine what its like to live in fear of losing your child. I already do you say – I worry whenever they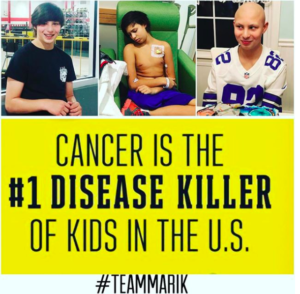 walk out that door. Well, that's not what I mean, I know that feeling well too. I mean having a doctor look you in the eye and say the word "relapse", not once, not TWICE, but THREE TIMES. Hearing that word after a fight against childhood cancer has already robbed your child of a year of his childhood and one of his legs. After it has robbed you of ever sitting down and being truly carefree. After it has robbed you of a year's worth of income – when you are a two income family by necessity.
Now it rears its ugly head and comes back for more. The fight is expensive – physically, emotionally, and financially. Blessed with the prayers of friends and family we can feel the love to help us emotionally. But we need your help to fight it financially. There is no long term care insurance for staying in the hospital at your child's bedside, no disability coverage that can be used when it is your child that is ill, no social security, no mortgage insurance covers an inability to work when it is to care for your child. Please help us so that our full concentration can be on how to help Marik survive not how we will.
To read more about Marik's Journey and help support in his medical bills please check out his You Caring crowdfunding page or follow his journey on Instagram or email him at miraclesformarik@gmail.com.
---