Rainn Wilson is best known for playing "Dwight" on, "The Office." He is a co-founder of SoulPancake, a media company that shares pure "Joy." He is also the author of the brand-new book, The Bassoon King.
Rainn Wilson's "Message to the World."
"Don't Be An Asshole!"

Not surprising to us he explained a way that keeps him from being an asshole, which is the reason we wanted to share his message with you.  
Rainn Wilson on "Gratitude."
"I think to me the most important prayers, the ones that really help balance me out like we talked earlier on in the conversation are prayers of gratitude.  And if I can be in gratitude everyday, if I can turn to the divine presences around me and just say thank for my health, thank you for the beautiful sunlight, thank you for enough food in my refrigerator, thank you for keeping my son happy and healthy.  It shifts my day you know and shifts my whole perspective.  Cause I can easily say, shit how come I'm not a big movie star and how come I'm not getting the work I want to get and you know how come my book's not a number one best seller.  It's easy to get into that negativity but players of gratitude I find really helpful."
Rainn Wilson's following up "Message to the World."
"Dream Bigger"
"You have to believe in your capacity, you have to believe that your capacity is greater than you could probably imagine what it is.  To me, this is kind of a divine question.  God has given us talents and faculties and it's up to us to discover them and expand them to their maximin and use them for maximin service to the world.  
---
These quotes were taken from, "The Tim Ferriss Show" podcast.  I recommend that you check out the whole interview HERE.
---
 Coming from only knowing Rainn from 'The Office," I really enjoyed this interview.  It is a rare occasion when you have a comedic actor give such profound statements.  After hearing him talk about prayers of gratitude I had to share it here.  What an amazing message Rainn!  Thank you for the strong reminder to stay grateful and appreciate life while we dream bigger.  Good man!  I hope one day to interview you myself, how amazing it would be to talk gratitude with you for 20 minutes.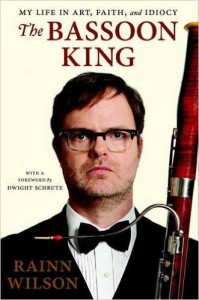 Be sure to check out his book by clicking HERE.  Also, check out the video's found at soulpancake.com and connect with him at:
---
I've attached a few must watch video's from Soul Pancake below.  Enjoy, Gratitude
Nominate another person or organization that deserves a Spotlight!  

Email Nomination to Chris@GratitudeSpace.com

.

  

GratitudeSpace.com

is the largest online Gratitude Community sharing over 250,000 Gratitude/ Thanks, posts monthly. Click HERE to see what people all over the world are grateful for.  Connect with us at: